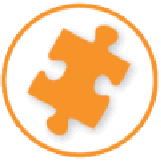 Examples of What We Can Do
One of the benefits of dealing with SkillCircle is that our members are used to working together when needed to offer you a complete service.
Churches Together in Biggleswade used SkillCircle to supply promotional items for their Churches In Action (CIA) week. This involved graphic design, a web site and promotional items - printed T shirts, pens, pencils, pads and balloons. Three members worked together to meet these needs in a cost effective and timely way.
New Businesses find it very cost effective to use our services for design, stationery, web site, advertising etc. This avoids duplication and ensure consistency.